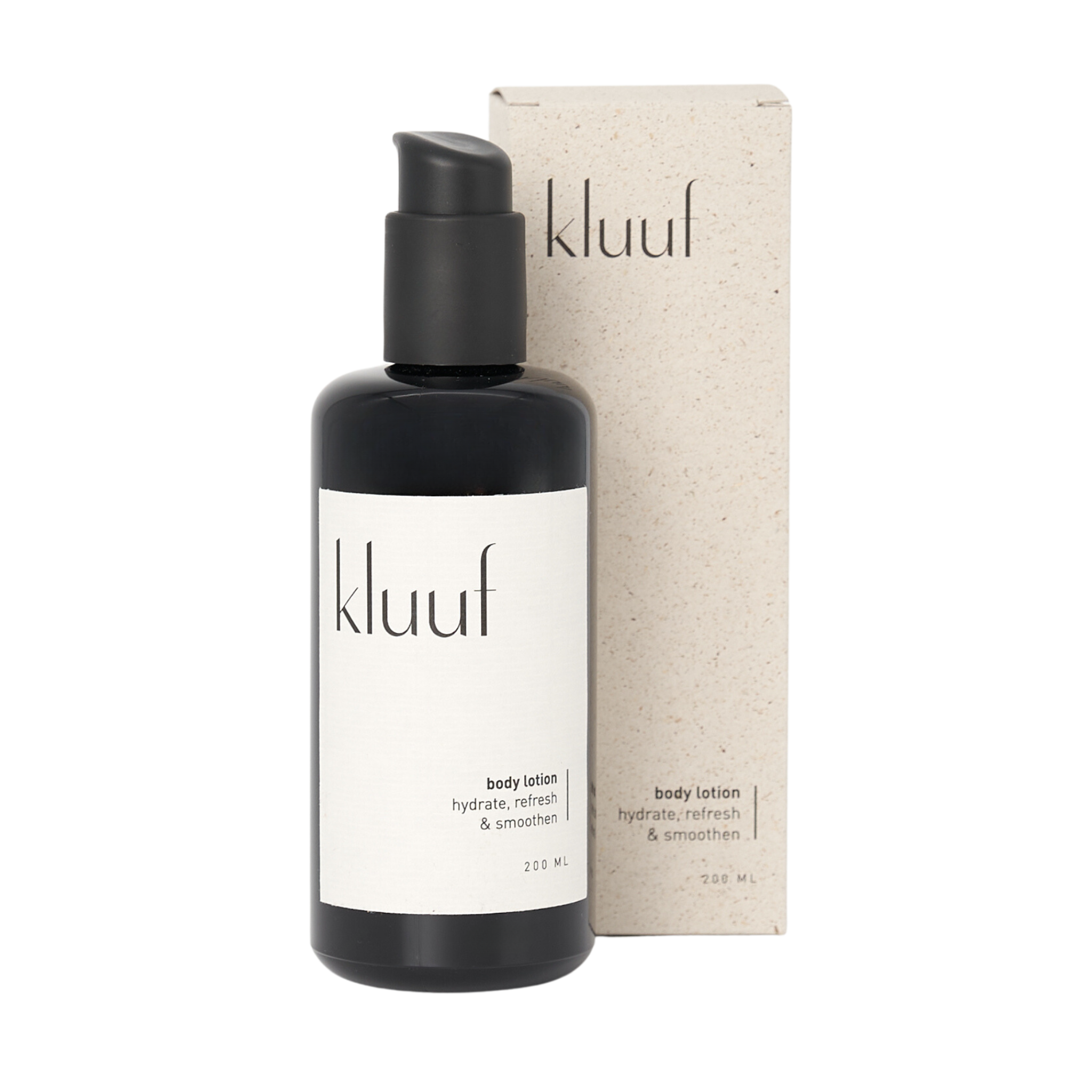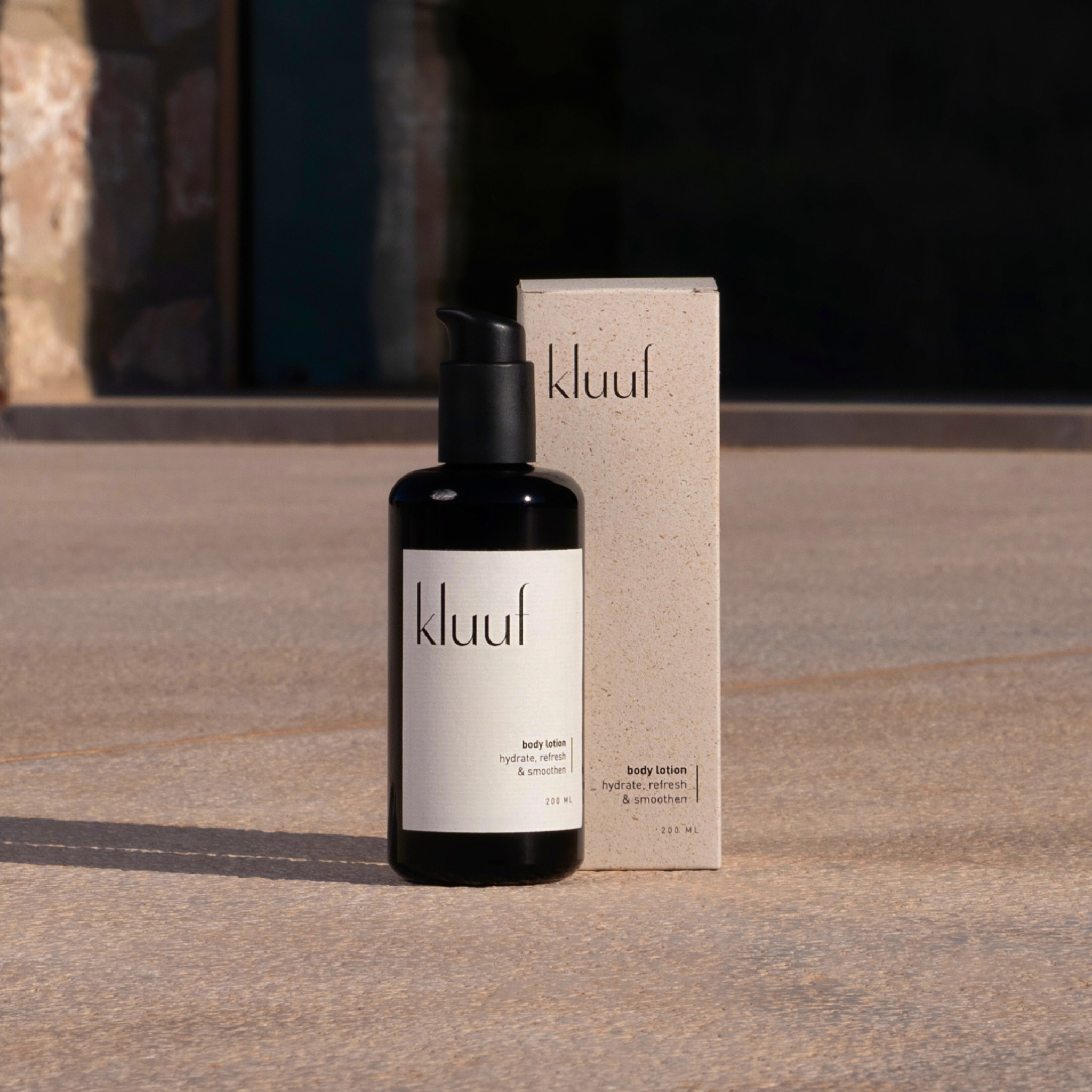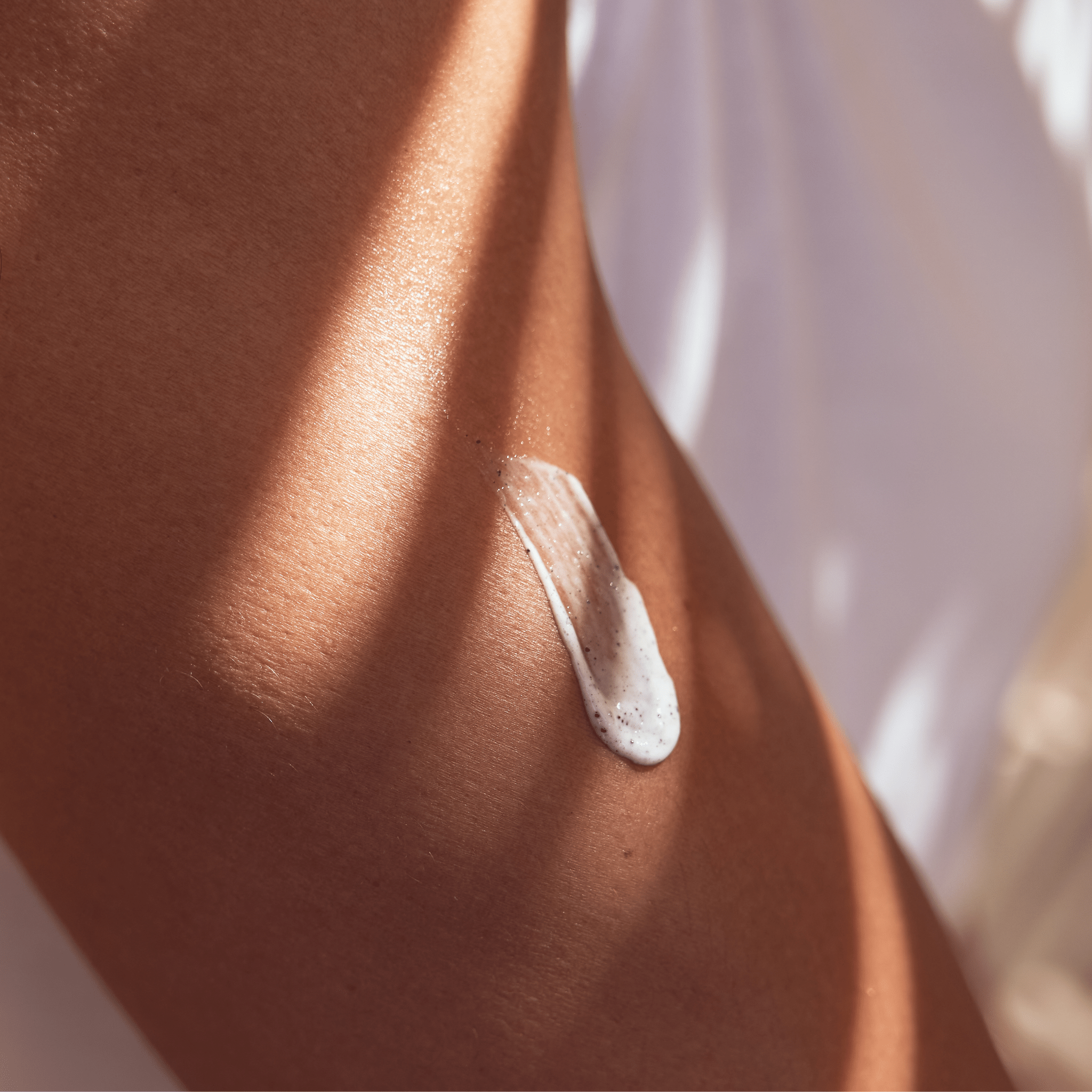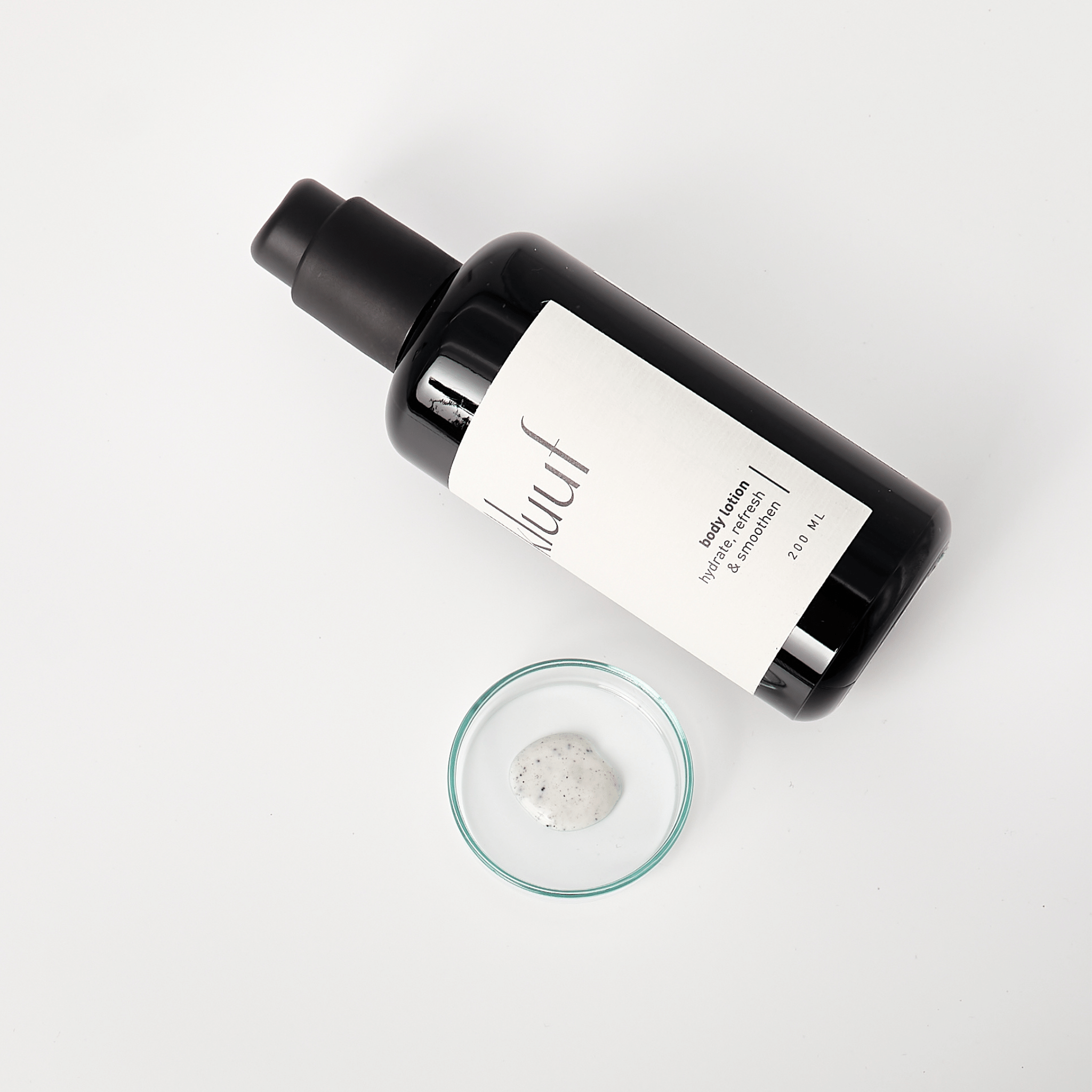 body lotion
Nourishing & moisturizing lotion for body and hands. Spilanthol in the odorless cream has a proven anti-aging effect, while charcoal particles smoothen the skin.
---
---
Skin sensation
Quickly absorbed, deeply nourished & moisturized
---
Spotlight ingredients
Spilanthol, Panthenol, Niacinamides, Hyaluronic Acid
---
We recommend to apply the body lotion post shower and drying of the skin. The dispenser helps with dosing and the lotion can be applied directly to the skin and gently massaged in. Just one pump is enough to supply a larger area of ​​the skin - a little goes a long way.

Our body lotion is known for absorbing quickly into the skin, without leaving a greasy film. Instead, the active ingredients start working in the different layers of epidermis immediately after application.
Like all of Kluuf's skincare products, our body lotion is vegan certified and foregoes ingredients that we classify as questionable. These include unsustainable palm oil, parabens, paraffins, sulfates, and animal products.

Out of conviction, we do not use these and many other raw materials during production and only equip our products with the best vegan ingredients. In addition, we had an independent research institute test our body lotion dermatologically (for normal and sensitive skin). Our body lotion received the highest grade ("very good"), which guarantees excellent skin compatibility.
Aqua, Dicaprylyl Carbonate, Pentylene Glycol, Polyglyceryl-10 Stearate, Propylheptyl Caprylate, Cocos Nucifera (Coconut) Oil, Coco-Caprylate, Propanediol, Butyrospermum Parkii (Shea) Butter, Glycerin, Olus Oil, Prunus Amygdalus (Sweet Almond) Dulcis Oil, Carthamus Tinctorius (Safflower) Seed Oil, Panthenol, Mannitol, Aloe Barbadensis (Aloe Vera) Leaf Juice Powder, PCA Glyceryl Oleate, Microcrystalline Cellulose, Acmella Oleracea Extract, Xanthan Gum, Sodium Stearoyl Glutamate, Spilanthes Acmella Flower/Leaf/Stem Extract, Astragalus Membranaceous Root Extract, Gardenia Taitensis (Tiare) Flower, Hydrolyzed Algin, Maris Aqua, Charcoal Powder, Chlorella Vulgaris Extract, Tocopherol, Citric Acid, Ubiquinone, Algin

More information about the ingredients and what is behind the cryptic names can be found below or on the independent website of INCI Decoder.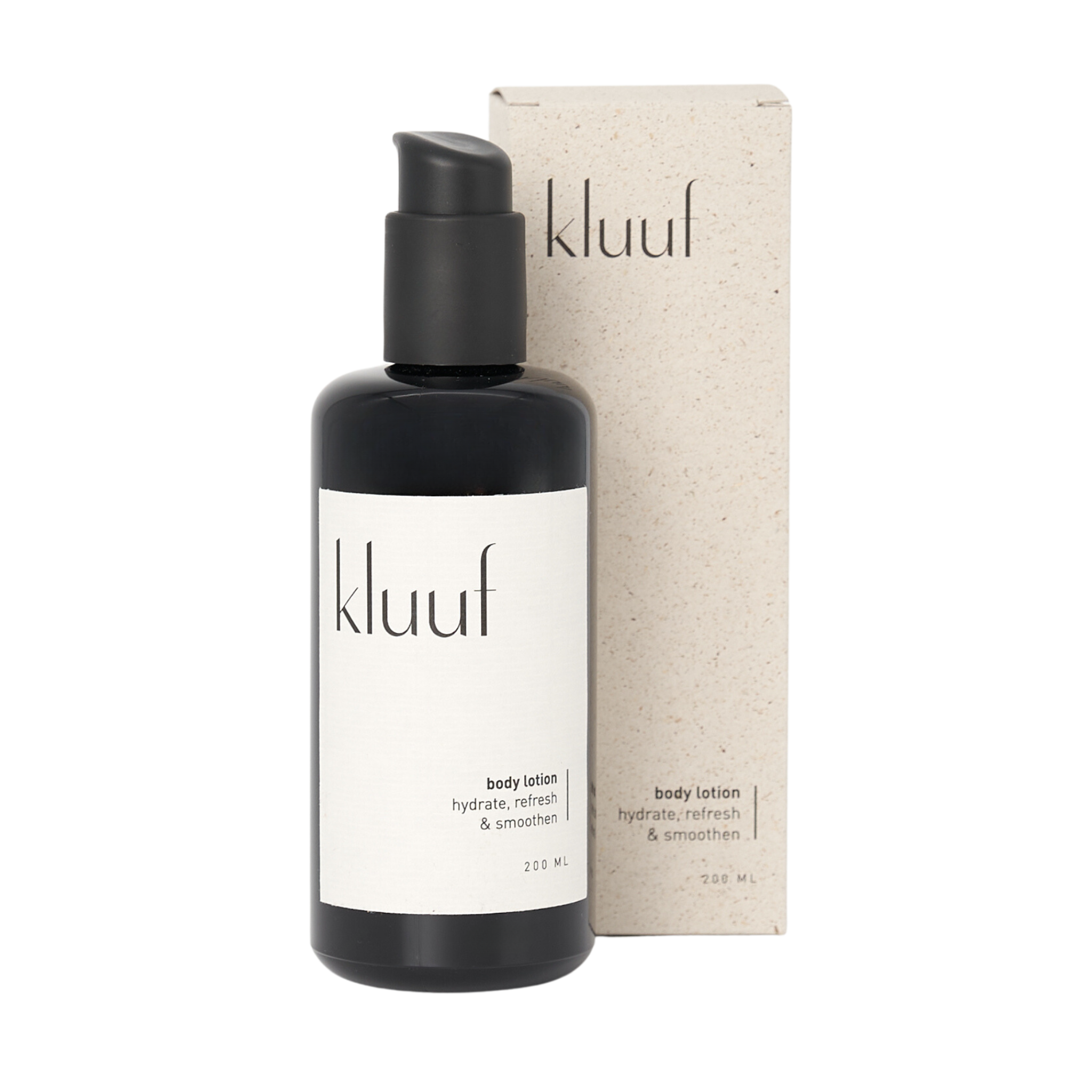 body lotion
Sale price

€34,00
Regular price

€44,00
(€17,00/100ml)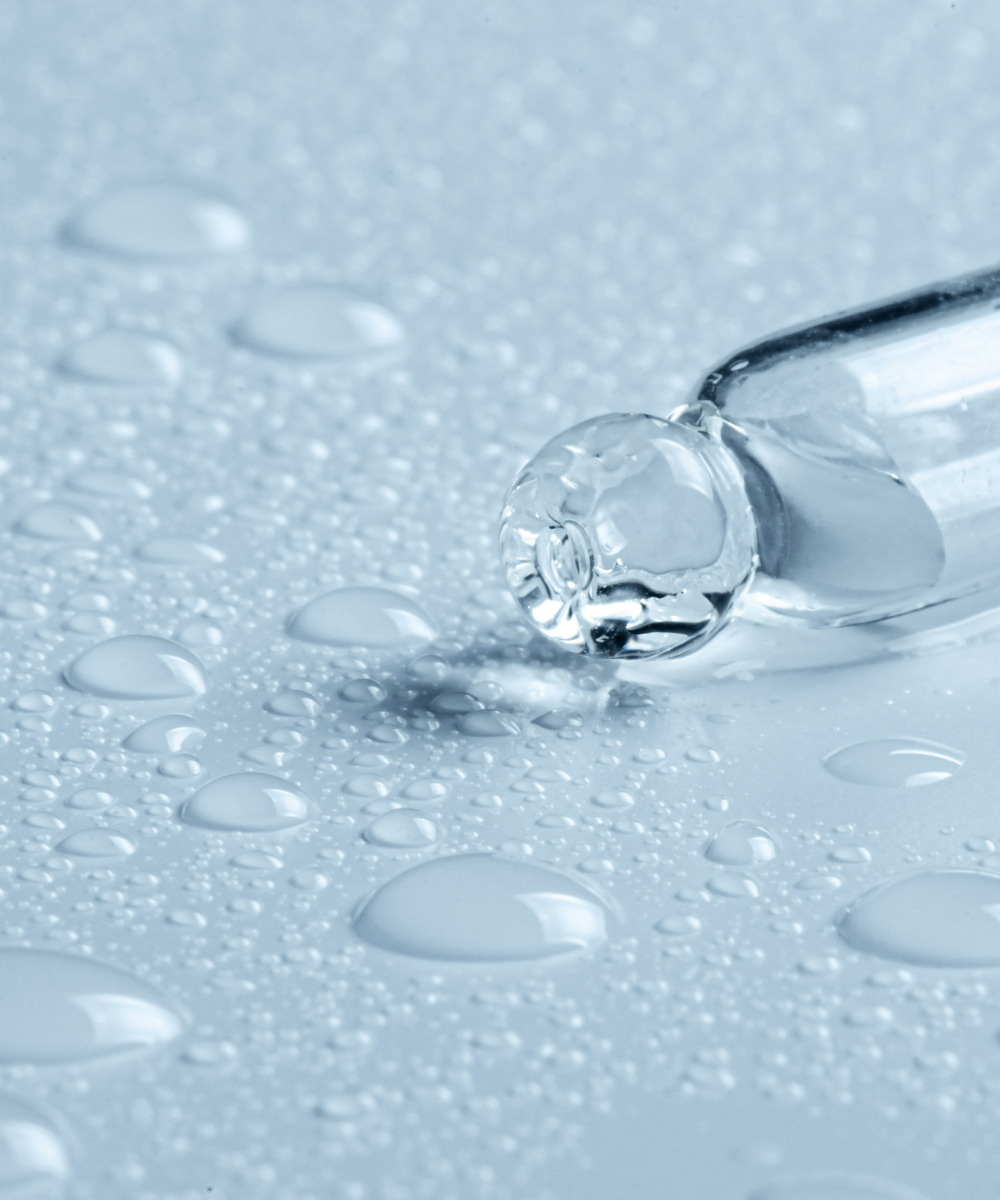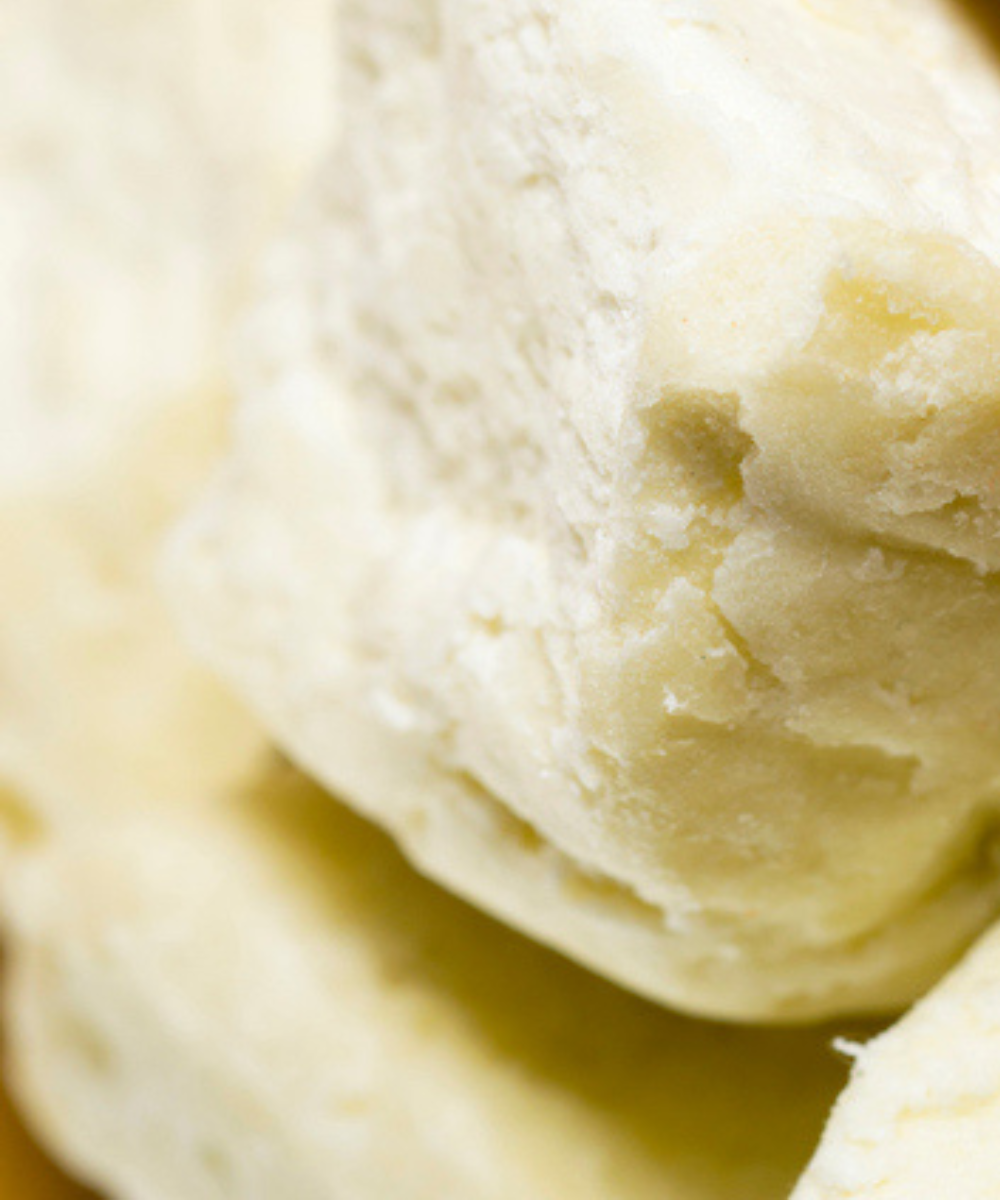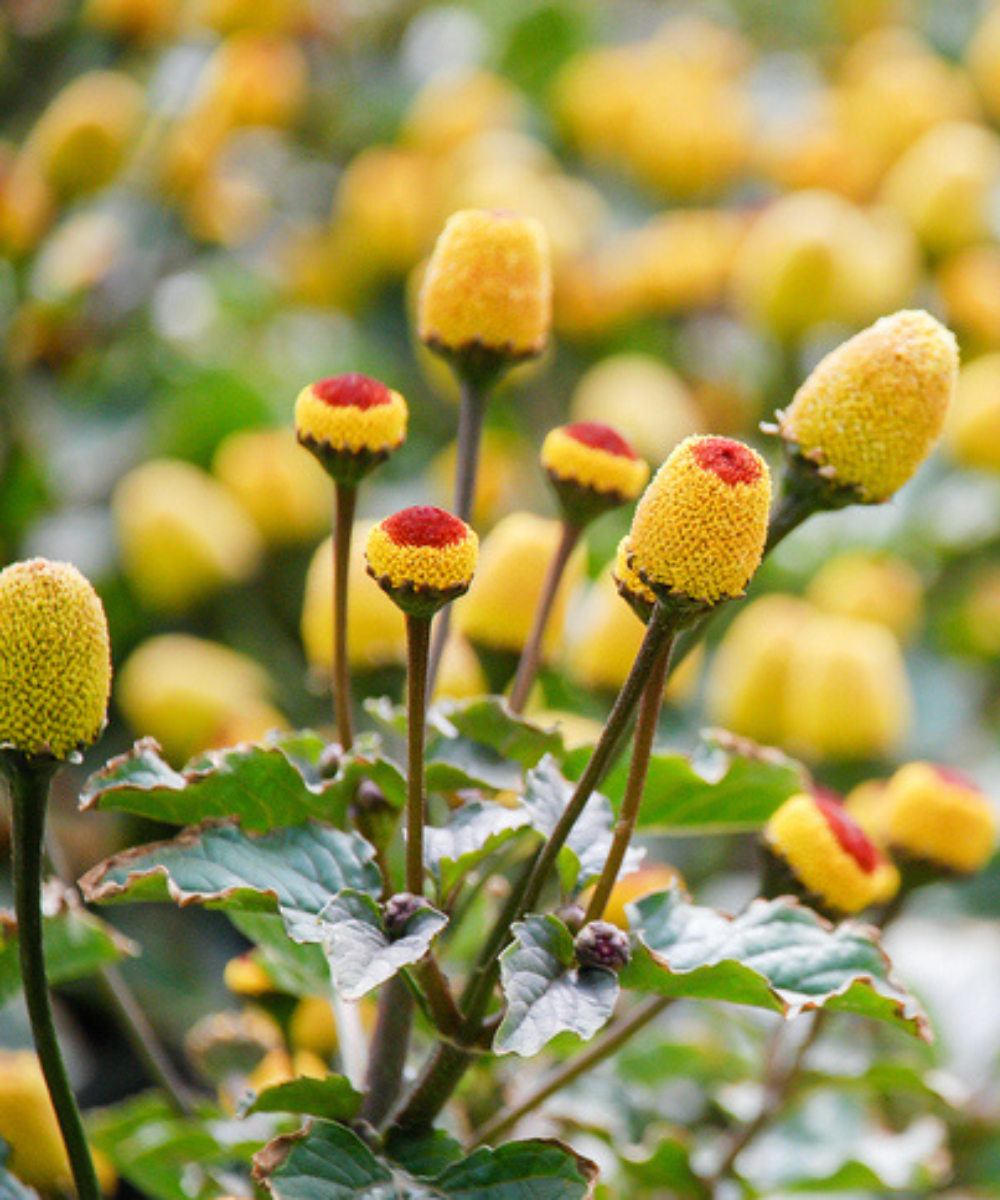 INCI: Spilanthes Acmella Flower/Leaf/Stem Extract
Spilanthol
Spilanthol, which grows on the jambu plant, relaxes nerve receptors, smoothening the skin. All about spilanthol here.
INCI: Butyrospermum Parkii (Shea) Butter
SheaButter
The natural fatty acids make this butter the perfect moisturizer for every skin type.
INCI: Panthenol
Panthenol
The provitamin B5 promotes the skin's regeneration process and has a healing effect. All about Panthenol here.
INCI: Pentylene Glycol
Pentylene Glycol
Pentylene glycol is a hydrating agent that helps the skin retain moisture. Polyhydric alcohol, which can also be used as an softener and solvent, helps to hydrate the skin, keep it soft and also helps other ingredients in the body lotion to dissolve.
All about Pentylene Glycol here.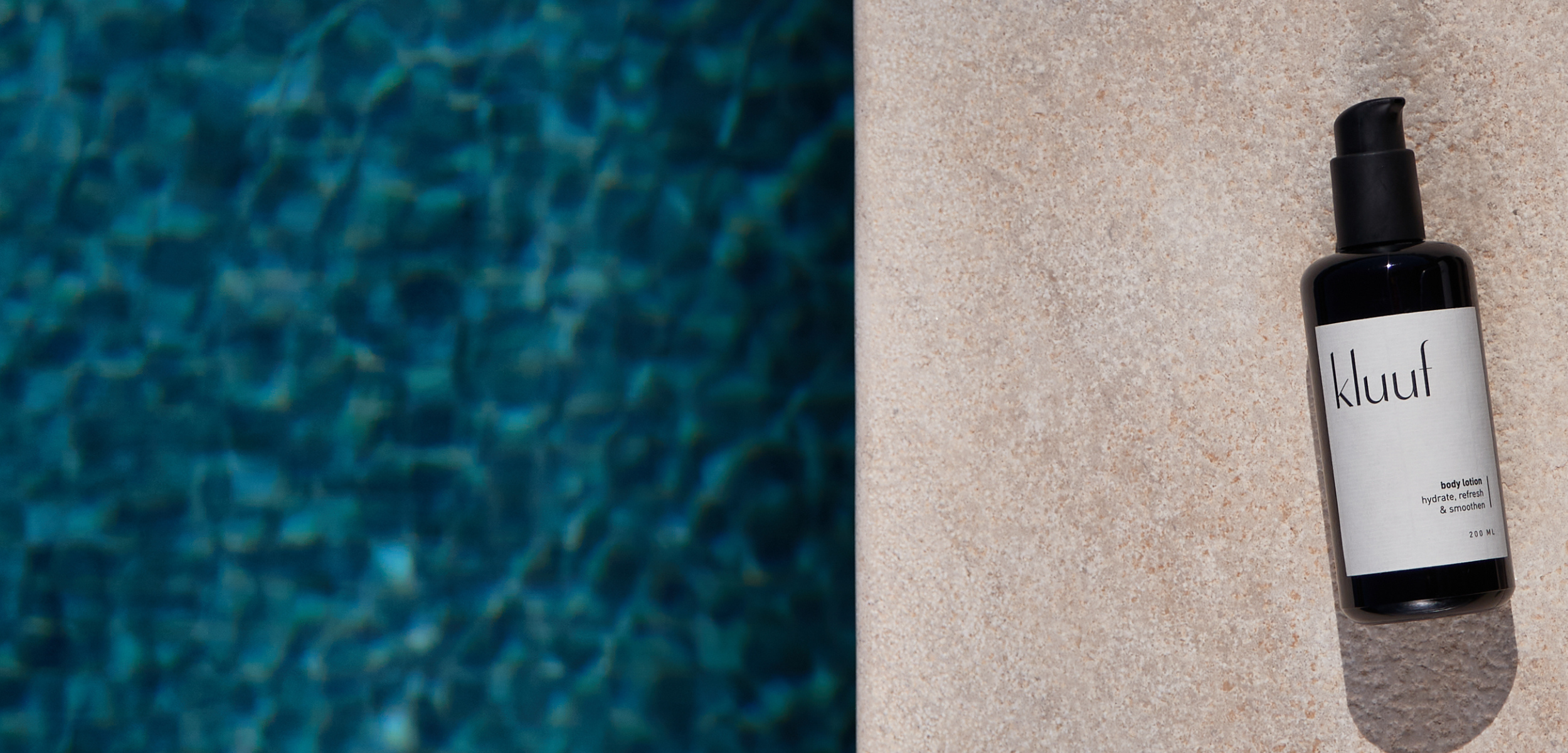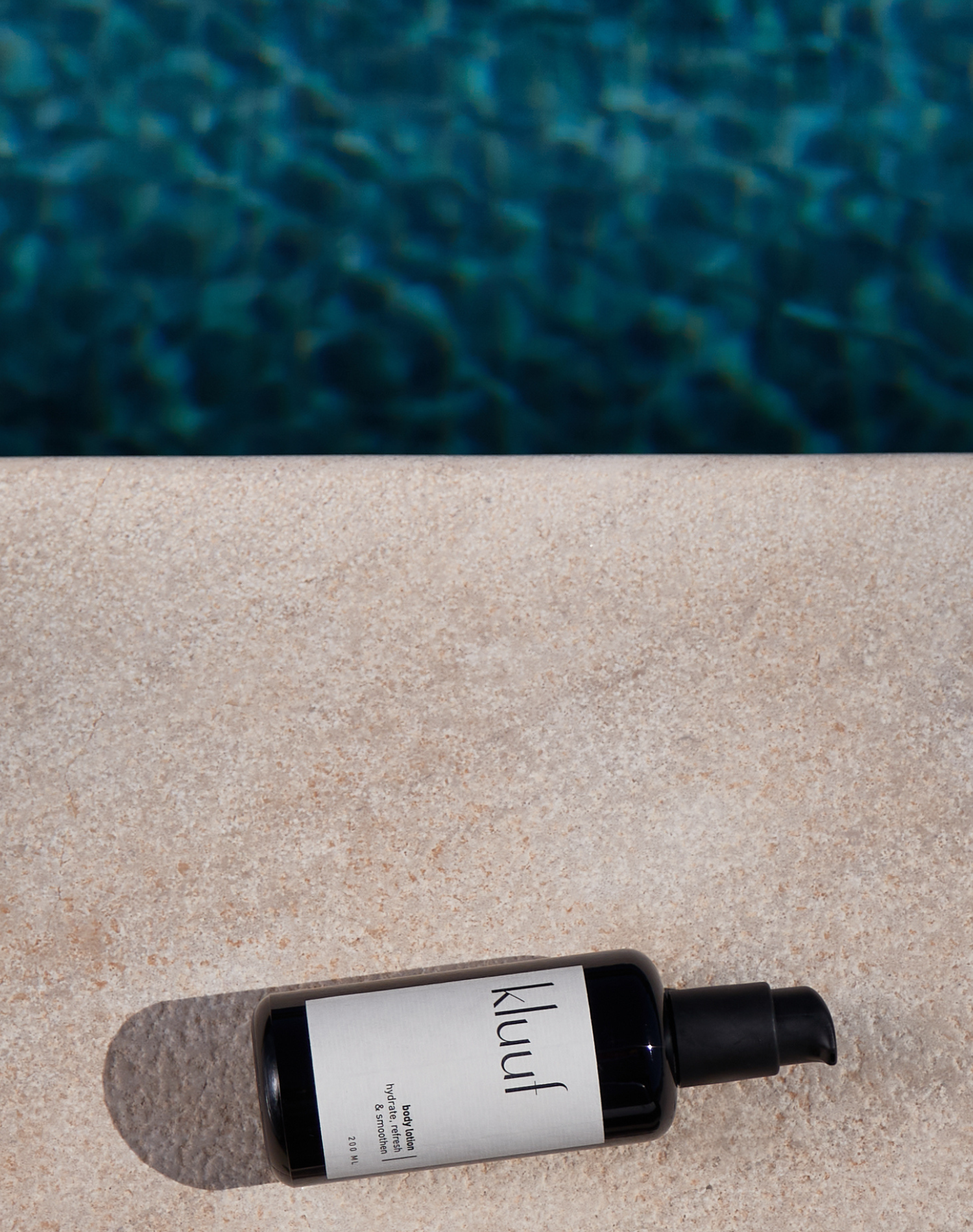 Long-lasting
Kluuf's Body Lotion for Men is particularly rich, so despite the comparatively small size of 200ml, the lotion usually lasts at least a whole month with daily use.
Hydration
One of the keys to such fresh and healthy skin is moisture: That's why our body lotion contains a whole range of moisturisers - from Shea Butter to Pentylene Glycol.
Clean skincare
Kluuf's skin care for men does not contain any ingredients that we consider to be harmful to the skin. So all our products are safe to use.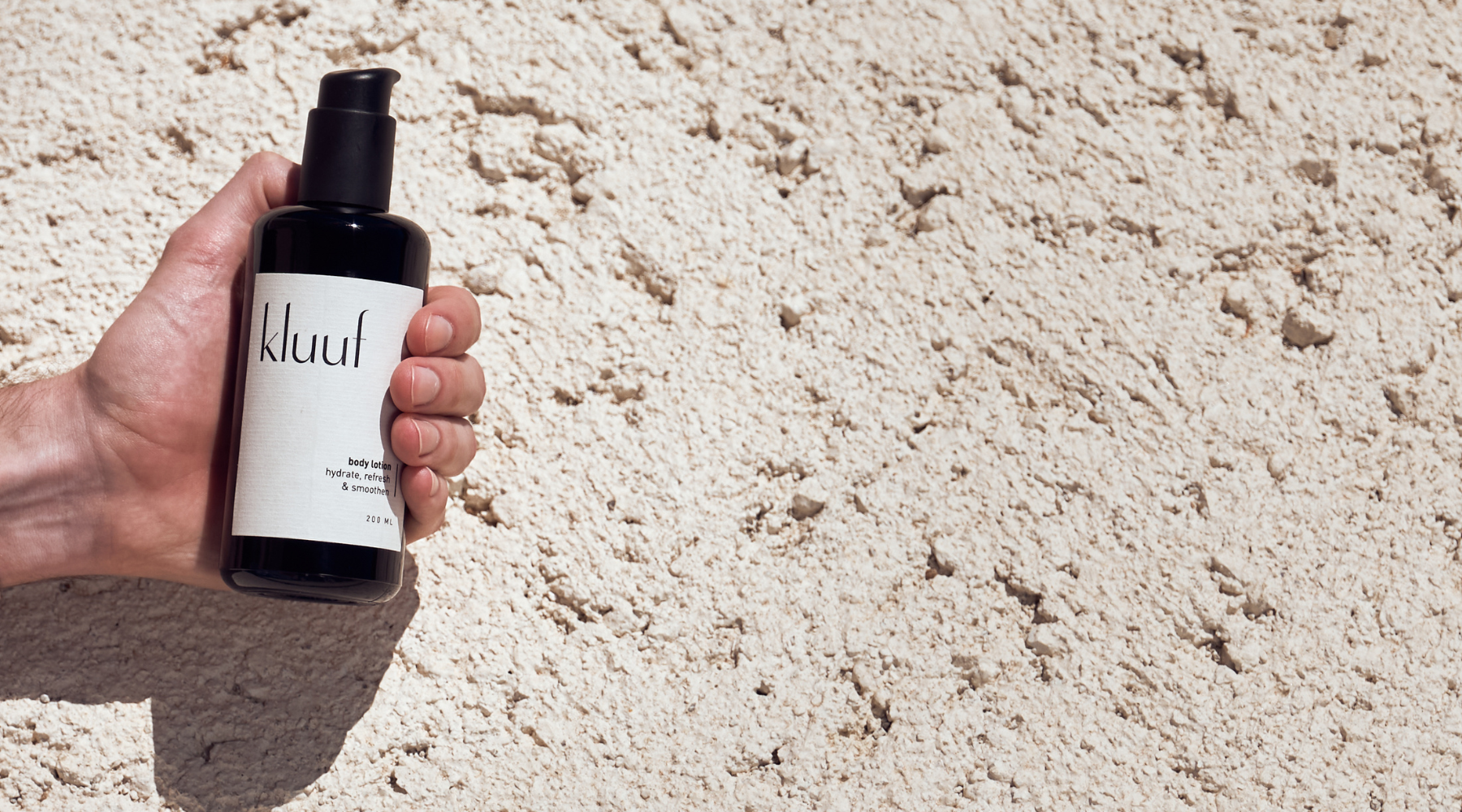 body lotion
Kluuf's body lotion is a full body cream specially designed for men that cares for, protects and regenerates the skin with the help of spilanthol, panthenol and shea butter. Dermatologically tested...
body lotion for men
Kluuf's body lotion for men is a high quality full body care that moisturizes, refreshes, keeps healthy and strengthens the skin. The lotion is the perfect choice for men who care about the appearance of their skin and want to keep their best look in a sustainable way. The unique blend of traditional, as well as innovative ingredients in this lotion has been carefully selected to ensure maximum benefits for the skin, while emphasizing uncomplicated and sustainable care.
This high-quality blend of ingredients deeply moisturizes the skin, leaving it feeling soft, smooth and rejuvenated. Shea butter and coconut oil provide long-lasting moisture, while Aloe Vera (INCI: Aloe Barbadensis (Aloe Vera) Leaf Juice Powder) soothes dry and irritated skin. Panthenol (INCI: Panthenol) and tocopherol (INCI: Tocopherol) protect your skin from harmful environmental influences and help reduce fine lines and wrinkles. Panthenol has also been shown in studies to promote the skin's regeneration process.
Another special active ingredient in Kluuf's body lotion for men is spilanthol (INCI: Spilanthes Acmella Flower/Leaf/Stem Extract). Spilanthol is also known as bio-botox in skin care, as the ingredient can noticeably tighten or smooth the skin. This effect is achieved by relaxing the nerve receptors and is completely harmless to the user. A true natural miracle worker in skin care.
Whether dry, oily or sensitive skin, Kluuf's body lotion for men is a good choice for any skin type to effectively moisturize the skin.
Kluuf
Kluuf - The vegan men's skincare from Hamburg, providing you with effective and sustainable skincare.
Our skincare products have been on the market since 2022 and offer men a variety of benefits. We combine natural and innovative active ingredients that have good skin compatibility and are effective at the same time.
At the same time, we pay attention to sustainable production by avoiding harmful ingredients such as PEG polymers, paraben, sulfates and many more. Our formulas are completely the vegan and Kluuf is PETA certified since May 2023. This guarantees customers vegan ingredients and animal-free cosmetics (these have been banned in the EU since 2004 anyway).
We place great emphasis on sustainable packaging and use recyclable glass bottles and sustainable cardboard made from grass paper.
At Kluuf you'll find everything you need for your skincare routine. Whether you need a face cream or a complete skincare line with aftershave, cleanser and body lotion, we have the right product for you.
On www.kluuf.com and with exclusive partners you can buy our products.we offer fast delivery and ship climate neutral. All orders within Germany are free of charge and for the rest of the world we take over the shipping costs from 50€ shopping cart value. Order now and enjoy an effective and sustainable men's care from Kluuf!
Weitere Produkte für Deine Haut
Alle ansehen
Save €10,00
after shave
Sale price

€38,00
Regular price

€48,00
(€38,00/100ml)
Save €12,00
cleanser
Sale price

€30,00
Regular price

€42,00
(€15,00/100ml)
Save €10,00
face cream
Sale price

€38,00
Regular price

€48,00
(€38,00/100ml)
This product is rated 4.9 of 5.0 stars.
It has received 11 reviews.