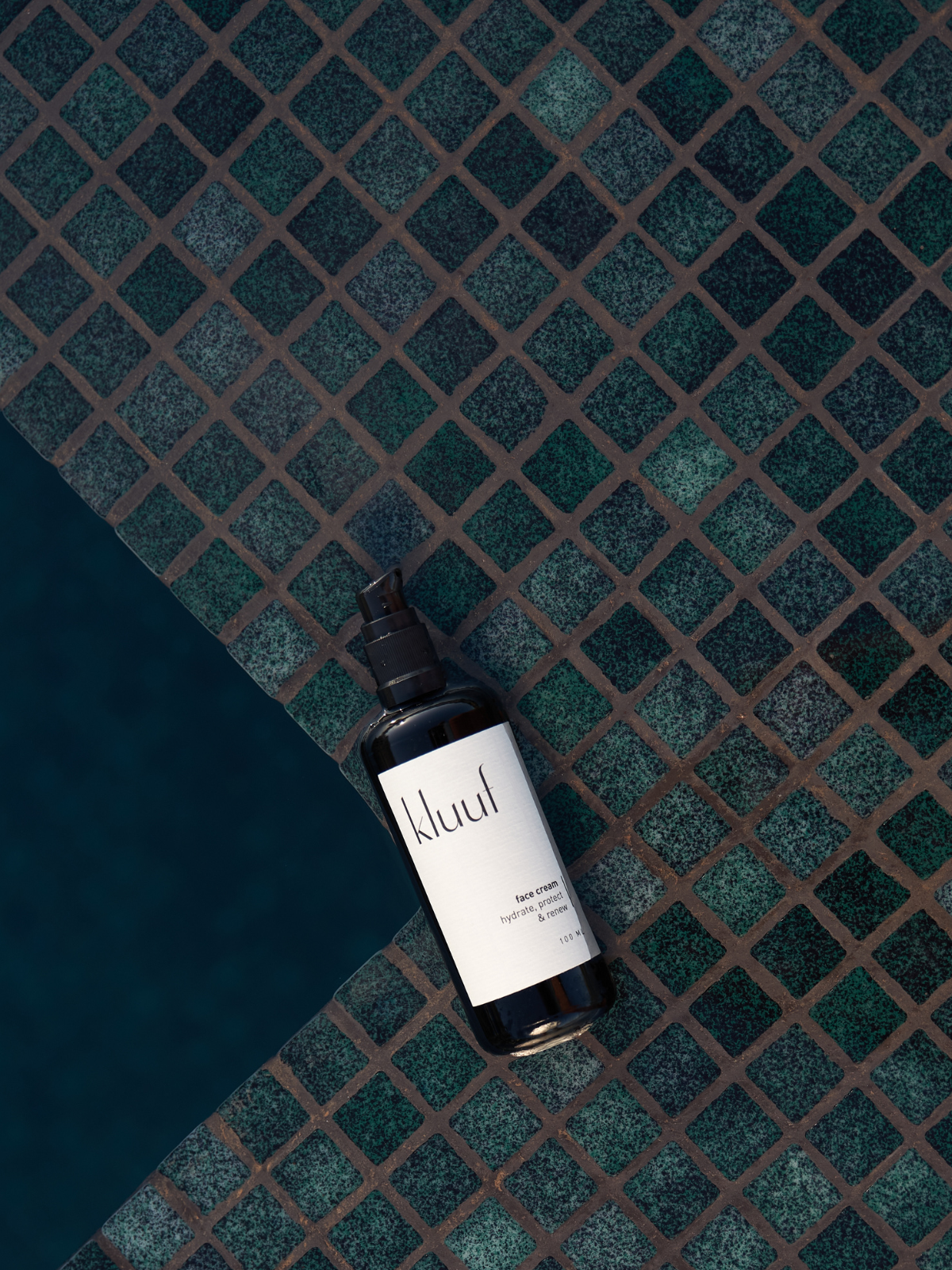 Frequently asked
Questions
FAQ
An overview of the most asked questions
Kluuf is a fictional term derived from the word kloof (Afrikaans).
What is "clean skincare"?

Clean skincare is a term that appears more and more often in the beauty sector, but has no strictly defined guidelines.

At Kluuf, clean skincare stands for skin care that does not contain any ingredients that are seen as controversial and could be harmful to people, environment or animals. Visit our

topic page

for more information.
Why are the products vegan?

We are convinced that excellent skincare products do not need to contain any animal ingredients. This opinion was confirmed by leading experts and dermatologists.
Our products are exclusively made with high-quality ingredients and simply do not require any animal ingredients.

How do I use the products?

Our products are designed so that they are easy-to-use and do not take up much of your time. Instructions for use of the individual products can be found on the product pages as well as on the outer packaging.
How often do I need to use the products?

For best results, we recommend using our products consistently on a daily basis. Some products are applied as needed (i.e. after shave). Others can even be used twice a day (such as face cream, body lotion, cleanser). However, you know your skin best and we recommend using the products as needed.
I have sensitive skin. Is Kluuf something for me?

Our products have been specially developed to provide lasting care for sensitive skin. In the independent dermatological testing, all Kluuf products were certified very good compatibility for normal and sensitive skin. However, no two skins are alike, so we always recommend that you check the ingredients and also visit our independent partner Codecheck.
What skin type are Kluuf's products for?

Our products are suitable for all skin types, whether dry or oily, normal or sensitive skin. We recommend that you adjust the dosage of the products to your skin needs. If you are unsure about your skin compatibility, we recommend you look at the ingredients and / or Codecheck.
What do the ingredients (INCI) on the back mean?

Ingredients, often referred to as INCIs (International Nomenclature for Cosmetic Ingredients), must be listed in a specific format. What is often confusing for consumers is intended to ensure universal comprehensibility. We understand, however, that not everyone can imagine something under these terms. That's why we explain the most important active ingredients and their benefits on the product pages.
Are Kluuf's products dermatologically tested?

All our products, whether face cream, after shave, cleanser or body lotion are tested by an independent research institute under the supervision of dermatologists. Of course, the testing was carried out under all common standards and normal as well as sensitive skin.we have written a separate blog post on this.
Why is there only one size per product?

Kluuf stands for simplicity and this also applies to the packaging sizes. Kluuf's face cream and after shave each come in 100ml and our body lotion and cleanser in 200ml. These sizes are deliberately chosen so that you can use them daily for 1 to 2 months. This reduces the environmental impact of unnecessary shipping and our consumers still have products that are fresh and effective.
How long does delivery take?

If we receive your order before 12 noon, our logistics provider will ship your products on the same day. Usually the shipping takes between 2 and 4 business days.
Why are there costs for shipping?

We offer complimentary shipping for all orders to Germany for our customers. For all other countries we offer free shipping from 50€ shopping cart value. For orders below this threshold we pass on a part of the shipping costs (5€) to our customers. This way we support our social projects and can continue to produce sustainably and ship climate neutral.
Why are the products in an outer packaging?

All our products are protected by a sustainable packaging made of grass paper. Since our bottles are made of recyclable glass, an outer packaging is necessary to protect the glass from breakage. By the way, many products made of glass that you see in stores are protected by outer packaging during transport. However, these are then often disposed of unseen before the product is sorted into the shelf.
Is the shipping sustainable or climate-neutral?

Yes! We ship exclusively with our shipping partner DHL and the additional option gogreen. DHL works to reduce emissions and offsets the resulting emissions by investing in climate projects.
Whether Apple or Google Pay, PayPal, Klarna, credit card or direct debit: You can use your preferred payment provider with us. Payments are processed either directly via the provider or via Shopify, so you have 100% security and don't have to worry (more).
We want our customers to be satisfied. Please have a look at our

cancellation policy

and

shipping

. Here we have listed the different options in detail.
How do I dispose the bottles

Granted, our black bottles are a bit special and there is no separate recycling container for black glass. Nevertheless, Kluuf is a member of the dual system and our bottles are recyclable (as are the packaging and dispensers). To do so, simply recycle the bottles together with green glass.
I am not satisfied. What can I do?

We want all our customers to be satisfied, because this is the only way we can offer you uncomplicated and sustainable skin care that changes the world with every application. If you are not satisfied, please contact us at info@kluuf.com. We will have a look at the problem together and find a solution.
How does each application also do something good for others?

Before founding, Kluuf committed not only to offer sustainable skincare products, but also to make a positive difference in the world at the same time. To this end, we invest at least 10% of the annual profits in charitable projects in South Africa. With every treatment you are not only doing something good for your skin, but at the same time you are helping to provide children a better future.
In which projects does Kluuf invest?

With your help, we invest a significant part of the annual profits in various social projects in South Africa to ensure children have access to education and basic needs. The various projects are explained in detail on this page.
Is Kluuf's social mission sustainable?

We understand that development aid is often greenwashed and not very sustainable. That's why we work closely with a charitable organization that has developed and supported projects in Africa for years. This ensures that you really make a difference with your skin care, whilst also protecting the ongoing support for the children, regardless of Kluuf's donations. Check out

this blog post

.
We are available Monday to Friday: 9am - 5pm
Average answer time: 24h
Contact
Start with your skincare today
No more questions?
View all
Save €10,00
after shave
Sale price

€38,00
Regular price

€48,00
(€38,00/100ml)
Save €10,00
face cream
Sale price

€38,00
Regular price

€48,00
(€38,00/100ml)
Save €12,00
cleanser
Sale price

€30,00
Regular price

€42,00
(€15,00/100ml)
Save €10,00
body lotion
Sale price

€34,00
Regular price

€44,00
(€17,00/100ml)
Save €18,00
Save €10,00